In Absentia
(NEW!)
edited by April Ranger, Emily O'Neill, and Nkosi Nkululeko, 2020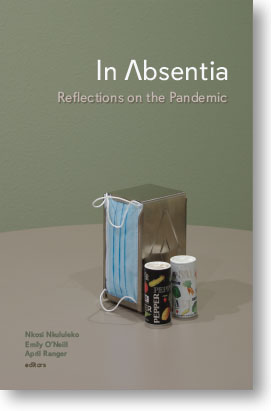 Our newest poetry anthology documents the fear, the injustice, the defiance, and even the humor of the novel coronavirus disaster. In Absentia: Reflections on the Pandemic offers 28 new poems from Sara Brickman, Laura Brown-Lavoie, Aaya Perez, Drew Pham, sam sax, Kimberly Ann Southwick, and over a dozen other talents.
Download a PDF ebook sampler of In Absentia optimized for your phone. No signup or login necessary.
The team practiced radical financial transparency on this project. Poets, editors, and the designer got paid.
---


View your current shopping cart
The trade paperback is 68 pages, perfect-bound on paper the color of wedding cake. We ship orders the next business day via US Mail (Priority Mail at additional cost). Please contact us for bulk discounts or international shipments.
Each Ebook option includes three formats. You can directly download the file of your choice: a .mobi file for Amazon Kindle devices, an .epub file for most other E-readers (Nook, iPad, Kobo, etc.), or a .pdf file optimized for smartphone screens. After your purchase, simply reply to the Email we send you to request the other format(s) you'd like. The .mobi and .epub files were made in consultation with the Yellow Buick Review, so they offer the best poetry formatting available. We recommend downloading these files onto a desktop or laptop computer, then transferring the files to your reading devices. Use the USB cable that came with your Kindle to sideload the Ebook onto it.
Additional titles available in our bookstore.
Please follow us at @BicycleComics on Twitter and like us on Facebook to get updates on new releases.