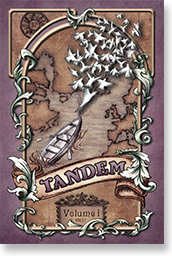 Missed the Lit Slam debut of Tandem? Come see it stepping out and about in public! In daylight, no less! We're thrilled to announce the bookstore debut of Tandem at Alley Cat Books in the Mission (where else?) on Sunday, January 27th, from 4-6PM. Local poets whose work appears in Tandem will be on hand to read selections from the anthology and sign copies. Also, we'll be offering sneak peeks at our upcoming second season of live shows!
Admission is 100% free! Tell a friend via Facebook or Twitter
Alley Cat Books, beneath the can't-miss green sign, is located at 3036 24th Street, San Francisco, CA 94114. It's five (short) blocks from 24th&Mission Street BART station. Bus routes are the 12, the 48, and the 67.