FOR IMMEDIATE RELEASE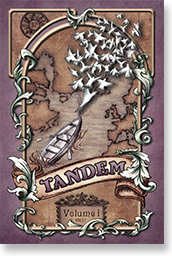 City's First Crowd-Sourced Poetry Anthology is Distinctly San Francisco.

San Francisco is a town famous for its poets. Yet a new poetry anthology hatched in the Mission bills itself as a celebration of San Francisco's editors.
"Tandem is a book that probably could have been written anywhere," says Tatyana Brown, host of the Lit Slam poetry reading, "but it could only have been edited here in San Francisco." That's because, while the poetry comes from all over the country, the city itself was the editor: at each of her monthly readings this year, Brown has handed control of the evening's content over to a randomly-selected panel of audience members and patrons. Egged on by the applause or catcalls of the audience, the fledgling editors winnow down the list of submissions until only a few poems remain.
That process is similar to poetry slam, the literary bar game invented by Chicago poet Mark Smith, so what sets the Lit Slam apart? "We're making a book," says Brown. "Our editors knew that we were going to publish the poems they picked. We put random people in control, and they rose to the occasion, month after month."
"Tandem represents exactly how those artists were at that show," says Dublin native Sarah Griff, a recent transplant to San Francisco and one of the poets whose work will appear in Tanem. "It's also a portrait of how the audience was, because of the work they chose."
"Crowd-sourcing the editorial process solves a real problem for me," says Artie Moffa, one of the Lit Slam's producers. "Most slam poets win a bunch of slams, then put out a book. But those books get picked and published via a top-down method that has nothing to do with the method that put them on the map. The Lit Slam is not anarchy. Tatyana has done an amazing job booking top national talent to perform on our stage. The book ends up cultivated, maybe curated, but definitely not controlled."
Tandem, published by Bicycle Comics, will be available on Tuesday, November 20, at Viracocha and other San Francisco retailers. Cover price is $12. A book release party will be held Monday night, 8PM at 998 Valencia Street, featuring discounted and autographed copies, readings from anthology contributors, a DJ, and refreshments. For more information, visit www.bicycle-comics.com/tandem or call (978) 397-0444.
High-resolution pictures suitable for publication are available below, courtesy Bicycle Comics. Photo Credit Chris Unguez