Is the Lit Slam still a startup? As Tatyana Brown prepares to close out the second season of her publishing experiment, it's looking more and more like a success. The first "minimum viable product" out the door has sold out. An E-book tied to the Women of the World Poetry Slam racked up over 1,000 downloads in its first week. And local public radio station KALW even ran a feature story on the project.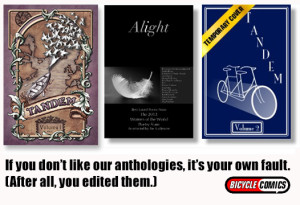 Tandem, Volume 2 is actually the third poetry anthology we've published in cooperation with The Lit Slam, after the E-book for Alight broke all records (and our website) this summer. Featuring 2013 headliners such as Daphne Gottlieb, Bucky Sinister, Corrina Bain, and Ryka Aoki, Tandem Vol. 2 also includes slam winners such as Mckendy Fils-Aime, Nic Alea, and Katelyn Lucas.
Tandem will go on sale in late November, 2013, for $12 trade paperback and $8.99 on Kindle and smartphone-optimized PDF. Fans can pre-order them now for just $10 and $8, respectively. Pre-orders close on October 1st!