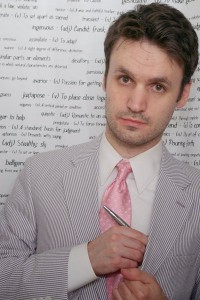 Artie Moffa, editor of Bicycle Comics, is heading east this April for a few shows. Not a tour, not really, just a few shows. Artie has deep roots in the poetry scene in Massachusetts and New Hampshire, and he's excited to return after two years in California. He'd love to see you!
Artie's Schedule:
1. Newburyport High School Poetry Soup: Held at Jabberwocky Bookshop in Newburyport, MA. I'll be reading a 20-25 minute feature set after hearing student work from this long-running poetry reading organized by Debbie Szabo of Newburyport High School. This is one of the best high-school reading series in the country, held in a delightfully quirky bookstore of the type that seems to hang on best in picturesque New England towns. Wednesday, April 3, 2013. 7PM-9PM. Free. 50 Water Street, Newburyport, MA 01950 Tel: 978-465-9359
2. The Dirty Gerund Poetry Show at Ralph's Rock Diner, Worcester, MA. I'll be doing two feature sets for the Dirty Gerund show; it'll be my first time at this long-running spoken word show. Monday, April 8, 2013. 8pm (ish) 128 Grove Street, Worcester, MA
3. Lecture at Amherst College: "How to be a Professional Poet and why it Might Even be a Good Idea." Hosted by the Amherst College Career Center. This is the stuff I wish someone had taught me when I was a student. Tuesday, April 9, 2013. 7PM-8PM. Free and open to all members of the community. College Hall, intersection of Rte. 9 and South Pleasant Street, Amherst MA
4. The Boston Poetry Slam at the Cantab Lounge. I'll be offering a workshop on iambic pentameter from 6pm-7PM, then headlining for what Jack McCarthy called "the greatest open mic in the English language." The Cantab Lounge made me who I am today, and I am beside-myself honored that they'd have me read for them during National Poetry Month, of all things. Wednesday, April 10, 2013. 6PM-7PM workshop. 8PM-Midnight show. $5 for workshop includes admission to show; show alone is $3. 738 Massachusetts Avenue, Cambridge, MA.